In deze restaurants word je bediend door robots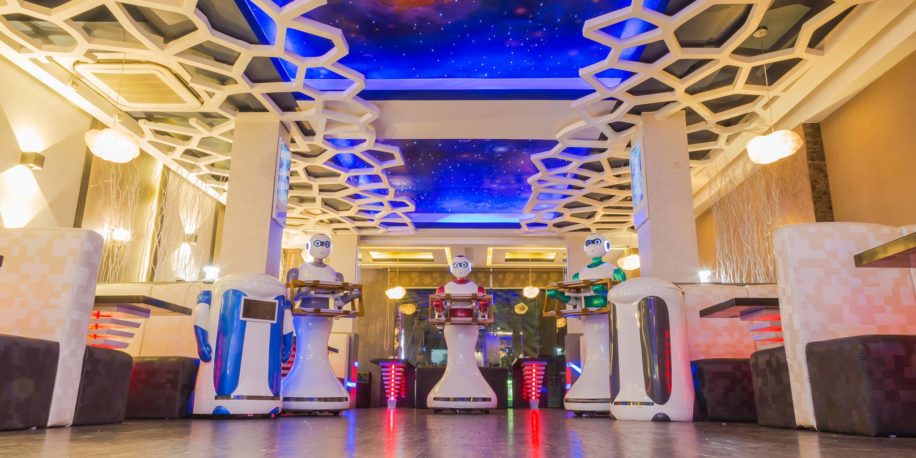 Robots die je eten maken, serveren of je nachtlampje uitdoen, say what? In deze zaken doen de robots het werk en kijk jij alleen maar toe.
Deze burger-robot bakt 350 hamburgers in een uur. Je kiest uit twee soorten kaas, hierna geef je door welke van de vijftien sauzen je wil. En voilà, de robot bouwt voor je neus een hamburger voor je. De broodjes worden vers gebakken en de groente voor je neus gesneden. Helaas is deze burger alleen nog in San Francisco te krijgen.
Haal je ochtendbakkie bij een robot. Cafe X is een robotkoffiebar, ook in San Francisco. De robot maakt alles, van espresso tot flat white, met lokale koffiebonen. Bij de bar kies je op een tablet welke koffie je graag wil, als je dit hebt gedaan komt de robot in actie en is de koffie zo klaar.
Bij restaurant Naulo in Nepal wordt het eten op tafel gezet door robots. Je maakt een keuze uit het menu via de tablet en één van de drie robots serveert het eten aan je tafel. Snel zijn ze niet, maar een unieke ervaring is het wel. Een soortgelijk restaurant is te vinden in Boedapest en Tokio.
Ooit een wokkende robot gezien? In dit restaurant in Boston wokt een robot je maaltijd. In de keuken staan wel nog mensen, de robots doen de helft van het werk. De koks doen het voorbereidende werk zoals de ingrediënten snijden. Wanneer je een bestelling plaatst, haalt een robot de portie uit de koelkast. De robot wokt de maaltijd, plaatst het in een kom en een kok zorgt voor the finishing touch. Als je naam op de display staat, is je eten klaar! De maaltijden zijn ook erg gezond en maar $7,50 per bowl.
Lees ook: