Pindakaas & jam granola
Granola for Gangsters heeft een nieuwe limited edition: Pump up the Jam. Wij komen juichend uit bed voor een kom yoghurt met deze peanutbutter & jelly in granola-vorm.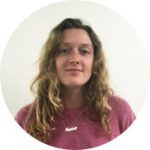 De eeuwenoude klassieke combi pindakaas-jam heeft voor- en tegenstanders. Eighter you love it or you hate it. Ben je een voorstander? Dan is het tijd voor een ontbijtfeest. Hallo gedroogde frambozen, kersen, rozijnen en vers gebrande pinda's en amandelen. Deze granola wil je nu in je yoghurt, of gewoon uit het vuistje je mond in.
Bestel hier een zak. En als je dan toch in de webshop bent, bestel dan gelijk een zak met vijg, walnoot en vanille.
Lees hier een interview met de eigenaar van Granola for Gangsters.