Alles over Indiase broden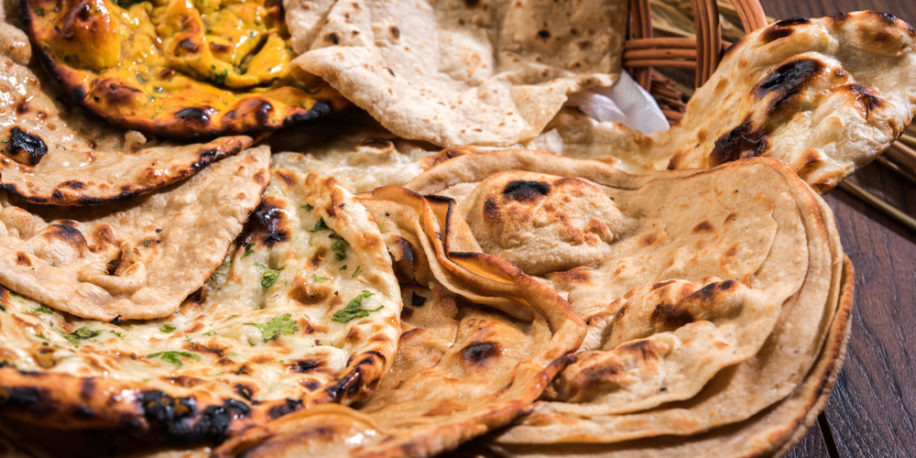 Roti, naan, paratha, puri: de Indiase keuken telt heel wat broodsoorten. Handig wel, om al die curry's en lekkere gestoofde prutjes mee te eten. Maar wat zijn de verschillen?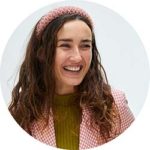 Roti
Waar je ook heen gaat in India, Noord of Zuid, overal vind je de op een tawa (een platte ijzeren plan) gebakken roti: een volkoren, ongerezen platbrood.
Het woord roti wordt trouwens vooral in het noorden gebruikt. In het westen (bij Mumbai) en het zuiden van India noemen ze het chapati. Het woord chapati is een verbastering van het Hindu en Urdu woord voor 'slaan'. De chapati wordt namelijk van hand naar hand geslagen om het deeg te dun en rond te krijgen (net als pizzadeeg).
Wij kennen roti vooral als onderdeel van het Surinaams Hindoestaanse kipgerecht, maar in India is het een van de meest gegeten broden. Door de relatief neutrale smaak wordt roti/chapati vooral geserveerd bij zwaarder gekruide curries en groentegerechten.
Naan
Misschien wel het (voor ons) meest bekende Indiase brood is naan. Gek eigenlijk, want in tegenstelling tot roti wordt het in India alleen in het noorden gegeten.
Naan wordt gebakken in een tandoor: een soort aardewerken ton die dient als oven. De ton (soms ook gewoon een gat in de grond) wordt verhit met houtskool. Het naandeeg wordt aan de zijkant van de ton gebakken. Door de combinatie van directe en indirecte hitte, wordt het brood in een paar minuten gebakken en vormen zich van die mooie, licht geblakerde luchtbellen.
Het brood wordt meestal gemaakt van maida; een eiwitarm tarwemeel, dat je zou kunnen vergelijken met patent tarwebloem. Om het een vollere smaak te geven, wordt het gemengd met melk of yoghurt en water.
Meestal blijft de keus in Nederland bij naturel, boter of knoflooknaan, maar het wordt ook nog wel eens opgeleukt met ghee en munt. In de Punjabregio zijn kulchas een specialiteit: naan gevuld met paneer, aardappelen, uien of vlees.
Paratha
Parathas worden van hetzelfde deeg als roti gemaakt, maar in plaats van het deeg in droog in een tawa te bakken, wordt het heel dun uitgerold, bestreken met olie of ghee, dan gevouwen en weer in dunne lagen gerold. Een goede paratha is net zo flaky en gelaagd als een croissant én – heel belangrijk – niet te vet.
Door de ghee/olie is de paratha minder neutraal dan een roti en wordt het meer als opzichzelfstaand brood gegeten. Ook wordt 'ie soms gevuld met aardappel (aloo paratha) of vlees en opgerold als een soort wrap.
Puri
Puri worden gemaakt van een deeg zonder gist of chemische rijsmiddelen als bakpoeder. Doordat het platbrood wordt gefrituurd, blaast het op als een soort strandbal.
Net als roti's worden puri's gebruikt als een soort lepel bij het eten van sauzige gerechtjes als chana masala. Soms (als de puri niet instort) worden ze gevuld met curry's.
Pannenkoek!
En Dosa's, Appams, Idli's, Pesarattu en Uttapams dan? Dat zijn geen broden, maar verschillende soorten Indiase pannenkoeken. Waarover later meer.
Lees ook: