Ice cream pizza rolls: hoe verzin je het?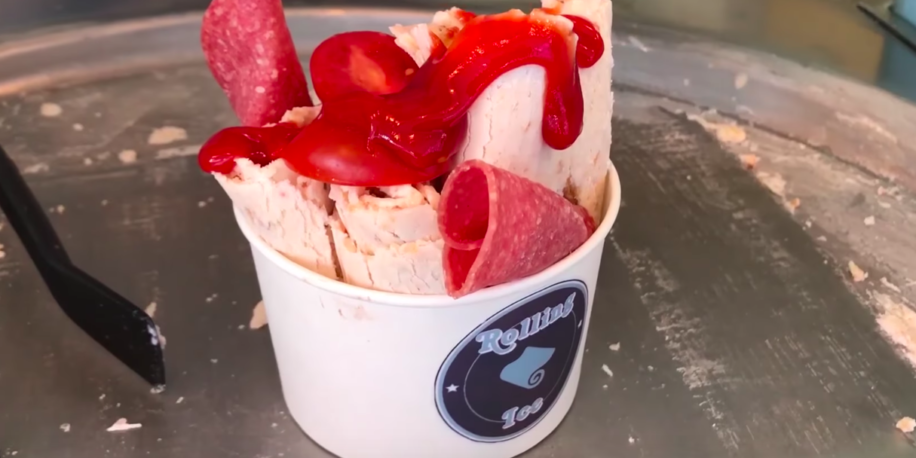 Deze video van rolled ice ging viral, maar of de maker daar zo blij mee was… De reacties waren op z'n zachtst gezegd niet positief en dit is waarom:
Gerold ijs is een Thaise manier van ijsbereiding waarbij ijs in een snel tempo ter plekke wordt gemaakt op een koude plaat. Het ijs wordt vervolgens op de plaat in rolletjes geschept en geserveerd. Rond 2015 werd rolled ice een trend in de Verenigde Staten en andere westerse landen. Maar deze rolled-ice-maker uit Duitsland maakt het wel heel bont.
In de video zie je hoe er een stuk pizza (met grof hakgeweld) in het ijs wordt verwerkt. Eenmaal gerold en in het bakje gestopt wordt het ijs afgetopt met peperoni, cherrytomaten en tomatensaus. In de reacties gruwelen mensen van de creatie. 'That poor pizza didn't deserve this…', 'You have created a way of destroying pizza' en 'The people who hate pineapples on pizza and those who love it need to stop fighting and join forces against this abomination', luiden een paar van de reacties.
Beoordeel zelf of jij dit zou eten:

Lees ook: