Jianbing: de Chinese versie van de pannenkoek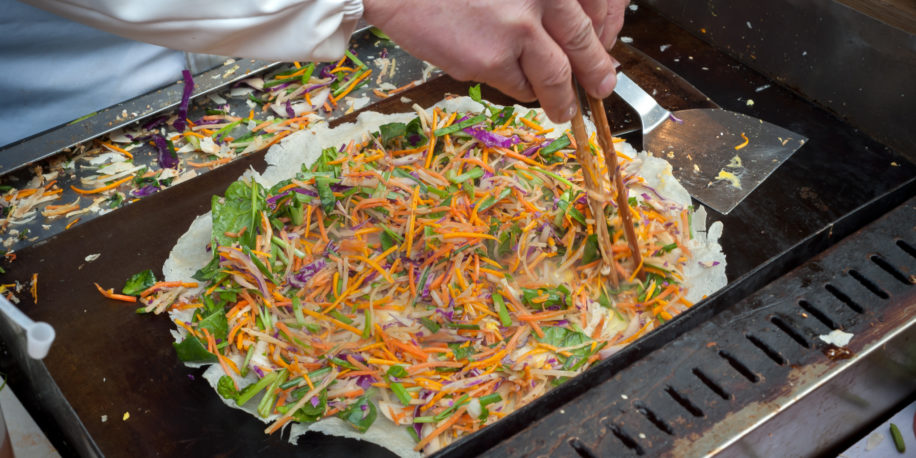 Tot voor kort was het één van de best bewaarde street food hapjes van China: de jianbing, een soort pannenkoek. In China eten ze hem als ontbijt en zijn ze op vrijwel elke straathoek te koop. Goed nieuws: ook in Nederland duikt deze exotische pannenkoek steeds vaker op.
Crêpe
De jianbing lijkt eigenlijk nog het meeste op een gevulde crêpe. Het deeg is een mix van tarwe en mungbonen, dit wordt verspreid op een grote plaat zoals een crêpe in Frankrijk. Daarna worden een aantal eieren verspreid over de pannenkoek en meegebakken.
Vulling
Los van de eieren worden de jianbing ook vaak gevuld met lente-uitjes, koriander, pittige augurken, knapperig gepofte wonton,  hoisin- en chili saus. Afhankelijk van de vulling, zijn ze daardoor niet alleen geschikt als ontbijt, maar ook als lunch, snack of diner. Eenmaal gevuld, worden ze opgerold en door midden gesneden, servetje of zakje eromheen en eten maar!
Amsterdam
En waar vind je de pannenkoek in Nederland? In Amsterdam haal je homemade jianbing variant in het Westerpark bij Dumplings of in het winkelcentrum van Osdorpplein bij Kong Fu Milk Tea .
Lees ook: