Het Mexicaanse streetfood dat je nog niet kende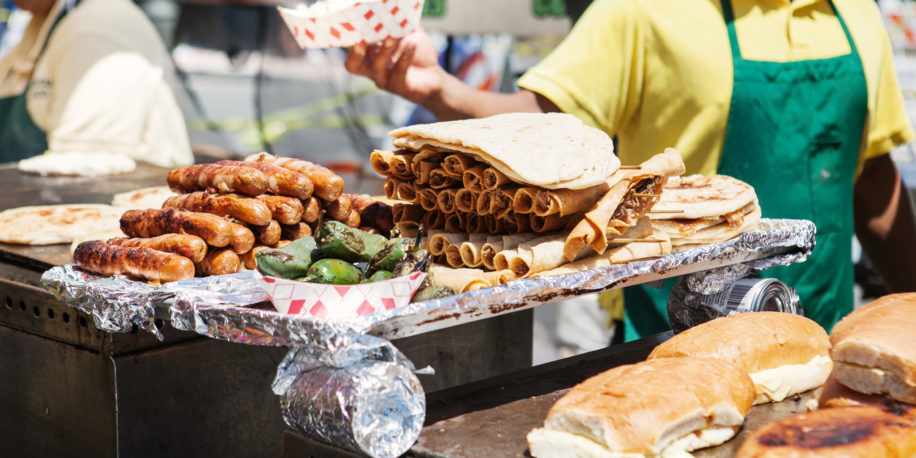 Mexico: het land van de taco's, quesadillas, burritos en overheerlijke churros. Mexico loopt over van het geweldige streetfood maar de streetfoodkraampjes hebben nog veel meer in huis waar je waarschijnlijk nog nooit van gehoord hebt.
Na het bekijken van deze streetfood hapjes weet je wat er nog meer te halen valt.
Tamales
Tamale is een bekend ontbijtgerecht in Mexico, het is maïsdeeg gevuld met een hartige (verschillende soorten vlees en groenten) of zoete (met bijvoorbeeld aardbei of ananas) vulling, gewikkeld in bananenbladeren of maïsblad. Vervolgens worden die pakketjes gestoomd. Bijna elke stad in Mexico heeft wel een eigen variatie op de tamale dus er valt van alles uit te proberen. Wat je erbij drinkt? Atole: een lauwwarm dik maïsdrankje dat je kunt halen in verschillende smaakjes, zoals chocolade.
Tlacoyos
Dol op quesadillas? Probeer dan eens de tlacoyos: een ovaal, plat pakketje van maïsdeeg gevuld met kaas en tuinbonen of gekookte bonen. Er is ook een variant met chicharrón erin, de Mexicaanse variant van wat wij kennen als knabbelspek. De tlacoyos worden afgetopt met nopal (eetbaar cactusblad), koriander, gekruimelde verse kaas of salsa. Het lekkerste is om deze populaire snack te eten als 'ie net van de grill af komt, anders wordt het namelijk snel taai en droog. De tlacoyos kun je ook nog in een blauwe variant tegenkomen, dan wordt het maïsdeeg gemaakt met blauwe maïskorrels.
Chilifruit
Mexicanen gooien het liefst overal wat extra pit op, dus ook op hun fruit. Bij de meeste kraampjes is het daarom mogelijk om chilifruit te halen. De fruitmix wordt gedrenkt in limoensap en chilipoeder. De perfecte smaakmix van zoet en pittig.
Taquito
Een taquito is een kleine opgerolde, gefrituurde tortillawrap gevuld met rund, kip of kaas. Een taquito betekent in het Spaans ook 'kleine taco'. De taquitos worden ook wel flautas (fluiten) genoemd, omdat het op kleine fluiten lijken. Je krijgt de taquitos geserveerd met een lading zure room of guacamole (of allebei), sla en kaas.
Carnitas
Voor het beste varkensvlees scoor je een tortilla bij een carnitaskraampje. Carnitas is een soort pulled pork, varkensvlees dat langzaam gegaard wordt in varkensvet. In de échte speciaalzaakjes wordt het gebruikte vet bewaard om de volgende porties mee te maken, waardoor je botermals en supersmaakvol vlees krijgt. Aftoppen met gesneden ui, koriander, salsa en smullen maar!
Elotes en esquites
's Avonds laat komen de elotes streetfood kraampjes tevoorschijn. Maïskolven worden op een stok gezet, gegrild en bedekt met mayonaise, kaas en chilipoeder. Bij de esquites wordt de maïs van de kolf afgehaald en koken ze het in kippenbouillon en epazote, een Mexicaans kruid, dat een beetje doet denken aan een combinatie van mint en oregano. Je krijgt de maïs in een beker afgetopt met hetzelfde als bij elotes: mayonaise, kaas en chilipoeder.
Lees ook: